Children as young as 12 in England could be given weight-loss injections on the NHS after the government asked medical watchdog Nice to assess the potential benefits of prescribing them to under-18s.
Department of Health officials have asked the watchdog to evaluate the clinical and cost effectiveness of giving semaglutide injections to obese children aged 12 to 17, "in addition to healthy nutrition and increased physical activity", the Observer can reveal.
The appetite-suppressing drug, sold for weight loss under the brand name Wegovy, is already available for 12- to 17-year-olds in the US and was recently approved for use on the NHS in England for obese adults with one weight-related comorbidity.
Last year, a clinical trial in Birmingham involving 180 obese and overweight children aged 12 to 17 suggested that the jabs helped them to reduce their body mass index by 16% in 15 months. Around 23% of 10-11-year-olds in England are classed as obese, with a further 14.3% classed as overweight.
NHS England officials believe there could be benefits in giving the drug to children who have been referred to specialist weight management services, including a reduction in referrals for invasive weight-loss surgery, reversal of health problems and social benefits such as improved school attainment.
However, they also believe further research is needed to understand the "long-term benefits" and that special consideration is needed to avoid "over-medicating" children with learning disabilities, who can be more prone to weight-related problems, according to pre-appraisal documents published by Nice.
It is unclear when the Nice appraisal process will formally begin and when any decision will be made public. Documents detailing the "final scope" for the evaluation of the drug's use in children appeared on the Nice website last month, and the watchdog had originally intended to publish the conclusion by early 2024, but it cast doubt on that timeline this weekend, saying it had put the appraisal on hold as it awaited further evidence from Novo Nordisk, the company behind Wegovy. On Friday, it updated its website to say guidance would be published at a date "to be confirmed".
Novo Nordisk did not offer any information on why it had been unable to submit evidence in line with Nice's original timeline but said it planned to provide it in due course. "Novo Nordisk will continue to evaluate its evidence package to support a future submission on semaglutide for managing overweight and obesity in young people aged 12 to 17," a spokesperson said.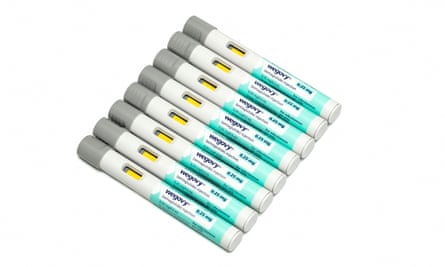 Any move to enable prescription of the injections to under-18s on the NHS would likely prove controversial. The recent approval of semaglutide for NHS use in adults has already raised concerns among some health experts, who point to a lack of data on the drug's long-term effectiveness and potential side effects. Last week, the government's former food adviser, Henry Dimbleby, said plans to prescribe weight-loss drugs to millions of people were "reckless", telling an event at the Institute for Government that Britain could not "drug its way out of the problem" of obesity.
Professor Keith Godfrey, nutrition lead at the NIHR Southampton Biomedical Research Centre, told the Observer that giving anti-obesity drugs to children risked "medicalising a whole generation". "These new treatments get more to the heart of how the body controls what we eat than previous obesity medications, but they don't permanently reset the mechanisms underlying the weight gain in the first place," he said.
Obese children in England are currently primarily treated using diet and exercise interventions in the community. Some oral anti-obesity drugs are available but these are rarely prescribed. In 2017, NHS England said bariatric surgery should be given to a small number of "highly selected children" with "severe and complex obesity" if non-invasive treatment methods had failed.
The US Food and Drug Administration approved semaglutide for use in 12-17 year olds in December. The American Academy of Paediatrics has since published guidelines saying obesity in children should be tackled early, including with medication and surgery, to prevent lifelong health problems.
News of proposals to prescribe semaglutide injections to under-18s follows an Observer investigation in March which revealed details of a multimillion-pound campaign by Novo Nordisk to promote its weight-loss drugs in the UK. The Danish pharmaceutical giant paid more than £21.7m to UK health experts and organisations in just three years, according to Disclosure UK records. Several went on to make submissions to Nice supporting the drug's approval for use in adults.
There is no suggestion the payments broke any rules, and recipients of the funding say they were not influenced by it, but, following an internal investigation, Nice said it had identified multiple breaches of its conflicts of interest policy relating to failures by organisations to fully disclose funding from Novo Nordisk.
Novo Nordisk has previously said it works in a "transparent and ethical manner" in line with "strict regulatory frameworks", and that partnerships with healthcare organisations were "standard industry practice".
link