Doctors warn against Saxenda, Ozempic 'quick fix' diabetes injections for weight loss
Diabetes injections used for weight loss without a doctor's prescription are far more dangerous than people think, doctors have said amid a recent diet fad that has worsened the global shortage of such medications.
From TikTok videos to advertisements on Instagram, weight loss injections are being promoted as a miracle cure for stubborn fat.
For the latest headlines, follow our Google News channel online or via the app.
Due to their risks, these injections have strict criteria that must be considered before starting treatment, Dr. Maya Kabbara, Specialist in Endocrinology and Metabolism at Healthbay Clinic Dubai, told Al Arabiya English.
While these medications are made for the treatment of diabetes and for weight management, "nowadays they have become very fashionable, and people are using them over the counter to shed a few kilos without consulting a doctor," she said.
"There are strict inclusion and exclusion criteria that must be considered. That means not everyone who wants to lose some weight is eligible to use them," the doctor added.
Despite the US Food and Drug Administration having approved the drug, the agency told Al Arabiya English that the approval of a medication for one intended use does not guarantee it is safe or effective for other uses.
"A separate balancing of risks and benefits is necessary for each intended use to ensure that the benefits of using the product to treat a particular disease or condition outweigh the risks. Therefore, off-label use of a medical product may include unknown risks," the US FDA said in a statement.
Clinical Dietitian and Weight Reduction Counselor at Mediclinic Parkview Hospital in Dubai Dr. Mona Joumaa also pointed out these medications have not been studied or tested in other patients.
"It is not safe to take these medications if you do not fit the criteria for which they have been approved. They have not been studied or approved for use in other patient populations, and their safety and effectiveness in those populations is not known."
Experts have also said people who stopped using some of these medications, even if they were prescribed to them, have seen a rise in their blood pressure, and an increase in their cholesterol and blood glucose levels.
Global shortages
Health officials have also been warning that global shortages of the drug are putting diabetics and people with other health problems at risk and making it difficult for patients to stick to treatment plans.
Doctors are now forced to look for alternative treatment methods to help their patients amid the shortage, according to Dr. Kabbara.
"Being a highly effective medication to treat both diabetes and obesity, there is huge demand for this class of medication. On top of that comes the fact that even more people are using it over the counter – when not indicated, to shed a few kilos – which altogether caused a worldwide stock shortage," she said.
"People who really depend on these medications for diabetes or weight management are no longer able to secure their medical supply, forcing us doctors to look for alternate, less suitable treatment methods."
This type of shortage, especially for patients who rely on the drug for diabetes management or obesity treatment, is dangerous.
"When people are unable to access these medications, it can lead to a loss of blood sugar control, which can lead to serious health complications, such as diabetic ketoacidosis (DKA), hyperosmolar hyperglycemic state (HHS), and long-term complications like heart disease, kidney failure, blindness, and amputation," Dr. Joumaa said.
"Additionally, people with obesity and related conditions, who are unable to access these medications, may have difficulty losing weight and may be at an increased risk of developing obesity-related health problems, such as high blood pressure, type 2 diabetes and other metabolic diseases, heart disease, and certain types of cancer."
Do these injections even work?
Two of the most popular injectable drugs currently on the market are Saxenda (Liraglutide injection) and Ozempic (Semaglutide injection).
The two medications mimic gut peptides known as Glucagon-like peptide-1 (GLP-1), Dr. Joumaa explained to Al Arabiya English.
GLP -1 is a hormone that is produced and released in the gut in response to food. When a person eats, the presence of food in the stomach and small intestine triggers the release of GLP-1, she explained.
The hormone binds to receptors in the brain, sending out signals to increase insulin production, decrease glucagon secretion which helps lower blood sugar levels, and slow down gastric emptying – making you feel full for longer.
For people with type 2 diabetes, the GLP-1 hormone is either decreased or completely absent, so they need to take injections consistently to help manage their blood sugar.
Semaglutide, such as Ozempic, is specifically used, along with diet and exercise, to improve blood sugar in diabetic adults.
It is also used to reduce the risk of major cardiovascular events such as heart attack, stroke, or death in adults with type 2 diabetes with known heart disease, Dr. Joumaa said.
When it comes to Liraglutide (Saxenda), the medication is used to help with weight management in adults with excess weight (a Body Mass Index above 27) who also have weight-related medical problems, adults with obesity (a Body Mass Index above 30), and children aged 12-17 who are over 60 kilograms and are obese, according to the pharmaceutical company behind the drug Novo Nordisk.
Temporary weight loss
Weight loss caused by these injections is not always permanent, Dr. Lina Doumani Khalil, Clinical Dietician and Member of Multidisciplinary Diabetes and Weight Management Team at Clemenceau Medical Center Dubai, said.
"In clinical trials, people who stopped taking Ozempic regained majority of their prior weight loss within a year. In addition, they experienced increased blood pressure, increased cholesterol, and increased blood glucose levels," Dr. Khalil said.
"Hence, it is very important for individuals to go through proper diagnosis and blood tests prior to taking such drugs. It is eligible more to those with metabolic syndrome such as insulin resistance or prediabetes," she added.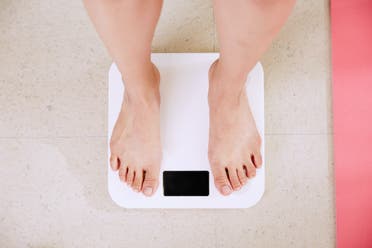 Person standing on white digital scale to measure their body weight. (Unsplash, Yunmai)
Research published in the Diabetes, Obesity and Metabolism journal in 2022 confirms that the effects only last while you are taking the injections – something that may not be sustainable for those who do not medically require it.
A study of 1,961 participants revealed that once the injections were discontinued, the participants who were taking semaglutide injections – such as Ozempic – regained two-thirds of the weight they lost.
All the positive changes they saw in their blood pressure, blood lipids, and Hemoglobin A1C were also reversed.
The authors of the study noted that the findings reveal that continuous use is necessary to maintain the benefits of the medicine.
No 'quick fixes' for obesity
According to Dr. Kabbara, "Being overweight or obese puts us at a greater risk to develop multiple diseases, such as diabetes, elevated cholesterol levels, elevated blood pressure, insulin resistance, fatty liver, polycystic ovarian syndrome, circulatory problems, joint problems, conditions related to our mental health – to name a few."
The World Health Organization (WHO) recognizes obesity as a chronic progressive disease that results from multiple environmental and genetic factors.
It is not something that can be treated with a "quick fix" solution, according to Dr. Kabbara.
"Obesity needs to be treated by a specialized doctor just as any other medical condition," she explained.
"Just as we offer a treatment plan to people who have elevated blood pressure, the same is true when it comes to weight management. A doctor needs to evaluate and offer a treatment plan to treat obesity."
Like any medication, Semaglutide and Liraglutide when used for weight loss alone or as part of diabetes treatment plan can cause a variety of side effects, the doctors said in an interview.
According to Dr. Joumaa, some common side effects of such injections include nausea, diarrhea, constipation, headache, abdominal pain, dizziness, fatigue, and low blood sugar.
However, "The benefits of GLP-1 receptor agonist medications often outweigh the potential side effects for people with diabetes or obesity-related conditions," she noted.
Read more:
New Year's resolutions: It is time people ditch restrictive diets, health experts say
TikTok 'thinspiration' videos contribute to eating disorders among UAE teens: Experts
Eating less beats intermittent fasting for weight loss: Study
link